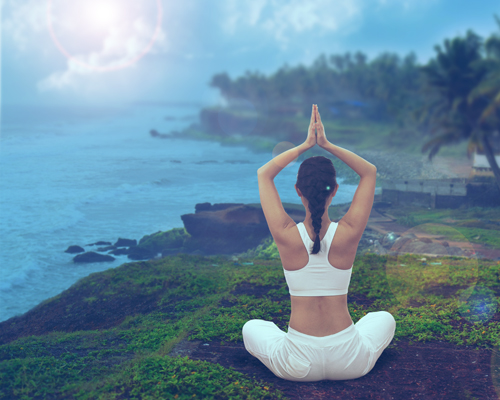 Yoga is another branch of the ancient Vedic knowledge system, much like Ayurveda. Yoga unites the body, mind and spirit, through the practice of asanas (physical postures), pranayama (breathing technique), meditation, mudra (hand gesture) and mantra (chanting). Yoga and Ayurveda are integral in the maintenance of well-being and in healing illnesses, both physical and mental. At Ayushi, we believe in the importance of having a regular regiment which includes both Yoga and Ayurvedic care and offers comprehensive yoga programs for all levels of practitioner.
Daily Yoga
Yoga is offered twice daily on our rooftop yoga shala. Start your day with an invigorating Ashtanga based practice and wind down with our sunset Hatha practice. Classes are suitable for all levels.
8:00 am- 9:30 am Morning Glass
4:30 pm- 6:30 pm Evening Glass
Ashtanga/Vinyasa Flow:
Postures are linked into fluid movements in this class to help build awareness of the breath, strength as well as flexibility.
Hatha: In this slower paced class, the emphasis is on moving mindfully in and out of each longer held posture, along with the practice of breathing techniques and meditation.
Private Class
Our team of yoga teachers can create customized private or semi-private classes that suit your needs and your current practice whether you are new to yoga or a seasoned practitioner. Our yoga teachers can also work with your Ayurveda therapists to design a yoga regiment that compliments your treatment program at Ayushi.
Stress Release (10 hours course)(meditation and pranayama)(60,90 minutes sessions)
Weight loss (10 days course) (90 minutes per session)
Yoga for breath issuses (10 days course)(60 minutes per sessions)
Shadkriyas (preference for yoga teachers)(60 minutes per sessions)
Yoga for Insomia & Sexual Issues (10 days course)(60 minutes per sessions)
Spinal disorder & body flexibility (10 days course)(60 minutes per sessions)
Advanced pranayama & Meditation (10 days course)
Eye disorder (3 days minimum)(60 minutes per sessions)
Pregnancy yoga (3 days minimum)(90 minutes per sessions)
Gentle yoga (3 days minimum) (preference for above 50 years old people, 60 minutes per sessions)